The topic of lace fronts have come up in conversation at least 3 times a week over the last 2 months, and I dont really know ANYTHING about them, so I figured I'd do a little research and get to know.
Gonna try REALLY hard not to make this boring!
Here is some back ground info on Lace fronts in general (I'm too lazy to write up my own blurb on them)
Black Voices.com
"In essence, lace fronts are wigs that have a small piece of lace mesh attached to the front which you attach to your head (by double-sided tape or glue), giving the illusion of a seamless hairline. If one is custom made, human hair is individually pulled through the lace, for an even more realistic look."
As always Lace fronts are more popular in the US than in the UK, meaning we have to pay a lot more in the long run for lace front. i.e. a remi lacefront that may be $250, will be £250 - £300 in store. If buying online you have to pay the extra postage to ensure you investment reaches you. There are also Chinese venders, but you hear 101 mixed stories on forums such as www.blackhairmedia.com that it puts you into an even bigger state state of confusion.
I have bought one lace front in a UK store. I paid (cause i was desperate) £70 for a human hair (not virgin / remi) short bob-like (it sat on my shoulders but the hair thinned out at the ends) lace front with no fringe/side gangs. It only has about 1.5 inches of lace in the front (a VERY little amount). It was a bad cut so I went home and restyled it. I cut the back The lace is hard and horrid (I believe french lace is the hard one and Swiss lace is soft?) The only benefit I can see with the french lace, is that you do not need to glue it.
Here's what I got: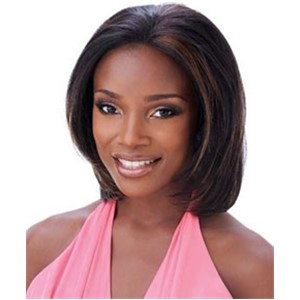 Here's what I ended up doing with it.
Am I happy with it? No, not really. I wanted to put my hair away for the last 3 months of my 1st year natural so this is me doing just that that! At the end of the month (read: pay day) I'm gonna upgrade it and get me some hawt curls or something nice n long. I'm really feeling makeupD0LL's hair. Imma try steal it!
So that's it for now. Next post SHOULD be about depression, food or hair. Or maybe all 3!